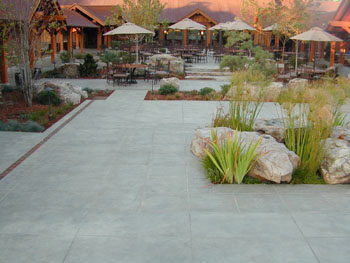 Company Profile:

Since 1978, Lasting Impressions in Concrete has been designing and installing architectural concrete for interior and exterior spaces. We work with you and your architect, contractor or designer to create the affect you desire.
Our professional staff is knowledgeable and responsive in implementing your vision.
In 2008 we were an awards finalist in the Scofield Decorative Concrete Awards.
We collaborate with Green By Design to ensure our projects are as eco-friendly as possible.
We invite you to visit our "concrete design farm" to see our extensive display of color and design options. Call (707) 763-5359 today to schedule your visit.
Owner Profile - Brian Ciocci:

I was born and raised in Northern California and got my first taste of the construction industry working summers throughout Junior High and High School as a laborer for General Contractors.
I was hired on by Don Hauswald of Lasting Impressions in Concrete in 1981, starting out as a concrete apprentice, learning the business from the inside out and working my way up to supervisor. I was fortunate enough to purchase the business from Don in 2000.
I have been able to build on Lasting Impressions In Concrete's strong reputation as an industry leader in the field of décorative concrete and have provided the highest quality of products with a strong work ethic and attention to detail.
In an effort to align the company's quality product with the ever challenged conditions of the earth, Lasting Impressions In Concrete makes every effort to do the following:
Recycle all concrete and asphalt from demolition of jobs as well as any concrete that is left after pouring a job.
Use pigments and color dyes that have as low V.O.C. as the industry provides,
Use sealers that are water soluable rather than chemical soluable,
Recycle lumber used for forming,
Use recycled materials for baserock,
The majority of vehicles used by Lasting Impressions in Concrete are diesel and will be converted to bio-diesel within the next three years,
The showroom located in Petaluma has samples of all textures and patterns so that clients have many choices available to view at one location, rather than driving all over the Northbay to see jobs.
At Lasting Impressions In Concrete we strive to deliver 100% customer satisfaction.
The majority of our business over the past thirty years has been based on word of mouth referrals.