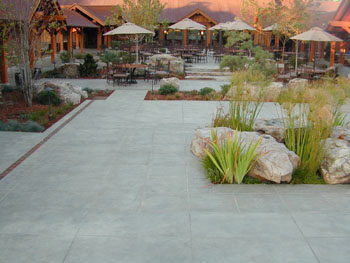 Dear Brian & Suzi,

We are writing to tell you how happy we are with the new patio that Lasting Impressions installed at our home in Novato last January. Not only is it a beautiful enhancement to our home, but it has made our backyard much more functional.
In June we hosted a retirement party for a close friend, and all sixty guests spent the entire time out on the patio. There was plenty of room for everyone to stand and socialize without blocking the flow of pedestrian traffic between the house and the backyard. Our guests were very complimentary about the quality of workmanship, and many commented on how the patio blended seamlessly with the layout and architectural style of our home.
Our two grandchildren are the biggest fans of our new patio. They love it! We can't get them to walk down to the park at the end of the block because they prefer to play in our backyard. With our old aggregate patio that was never an option.
We would like to add that during the construction of the new patio, the entire Lasting Impressions crew was thoroughly professional, highly competent, cooperative and friendly. They made every effort to contain the dust generated during the removal of our old concrete slab and kept the work site clean and free of debris, it was actually an enjoyable experience! We have recommended your company to many friends and would be happy to show off our beautiful patio to any of your prospective customers.
Again, our thanks to you and all of your craftsmen for a wonderful job. It was a pleasure working with all of you.

Sincerely,
Jerry and Barbara

Dear Brian,

I'm writing you and your crew for a truly outstanding job on my driveway and patio. The driveway looks great. The Suburban fits perfectly with plenty of walking space all around it. You were right about leaving the tree. It would have been a mistake to remove it. The patio turned out even better than the driveway. I especially like the design on the stairs and the shape and location of the seat bench. Your ideas really improved the overall design. Both the patio and the driveway are a huge improvement over what was there and have significantly increased the market value of our home. Finally, I want to thank you and your crew for your professionalism. You guys were always on time, always courteous to my family and neighbors, always left the place clean at the end of the day, and finished the job on schedule. I will continue to recommend you to friends who are looking for first-rate concrete work.

Sincerely,
Spencer


Dear Brian,

Anytime you want to use us as a reference, go ahead. We couldn't say enough about how good you are and how great it was working with you. We are also willing to let your prospective clients come and see your great work. When it's all done we are having a house warming party and you're invited. Thanks Brian! It just keeps looking better every day! We love the rocks too!

Claudia & Don


Dear Brian,

We love are new patio! Thanks for doing such a great job, it turned out just the way we wanted it to! I will be happy to pass your name on to our friends and family.

Dana


Suzi, Brian & Crew,

Thank you very much for all the work you did on our patio. We appreciate how flexible you were with our last minute changes and were thrilled we were able to get the work done sooner than expected. Your crew was great! Very friendly and we can't say enough how much we appreciated their re-closing the backyard so our dog could not get out. We hope the enclosed gift cards will provide at least one or two mornings worth of coffee on us (you guys are early risers!)

Best Regards,
Jon & Diane


To the folks at Lasting Impressions,

Thank you for your wise advice, design suggestions, competent execution, superior service, patience, flexibility and warmth!

Nina & Jules


Dear Brian and Suzi,

The pour is splendid!! Your responsible work and clear minded attitude has been Wonderful, Brian!! It has been a great pleasure for us to work with you on this project!! Your guidance has been wonderful! We will miss you all! It has been great...

Sincerely,
Dick and Zoila


Hello Brian,

Thank you for another excellent job. Your folks are extremely good at their trade. It was great to work with you again.

Thanks again,
Robin


Brian & Crew,

We can not tell you enough how TOTALLY satisfied we are with your job. Thank you. When it is planted the BBQ is fired up and the cooler is stocked, we will have you up for R&R (assuming that you'd hang out with us!?) You should enjoy your work, in all its splendor!

Take care,
Howard & Stephanie


Dear Brian,

Mark and I wanted to give you a little something (wishing it could be a big something!!!) for a the terrific work done by you and your crew. We are so pleased with the results and several people have made a point of extending compliments…I am thinking of imposing a fee for a tour!! Once again our Marks…

Have a Great Holiday,
Mark & Deborah


Dear Suzi,

We wanted you to know how pleased we are with the stamped concrete flooring for our porch. The coloring and design turned out better than are fondest dreams. Everyone who visits comments on how well the stamped concrete blends in with its surroundings. It binds the naturalness of the surrounding oak tree with the starkness of the stucco, providing a very soothing affect. We are so thrilled with the way it turned out and we wanted to let you know. Thanks again for everything.

Sincerely,
Kay & Ray


Hi Brian & Suzi,

I have received many compliments on your work already and have referred my parents to you. You guys run a real class act and I so appreciated your professionalism. Have a great day!
Warmest wishes,

Craig


Brian & Suzi,

The pool deck and stairs are fantastic! Thanks for doing such a great job. I really enjoyed working with the whole team. Brian and Todd taught me a lot about concrete, they were both very patient with my questions and interruptions. The final results are great... Thanks again.
Regards,

Don


Lasting Impressions in Concrete,

Just wanted to thank and commend Brian, his assistant, and his crew for their Courtesy and concern during the driveway/ walkway job they did for us. Brian, his assistant, and crew were knowledgeable, efficient and competent. They were extremely punctual also, arriving on the dot of the designated time they said they would arrive! We were pleasantly surprised when they were able to construct a temporary bridge across the walkway so that our son Dan, a recent paraplegic, could access the street directly from the front door without having to wait a day more for the concrete to cure. Thanks again for a job well done. It looks great...

Betty


Dear Brian,

Bill and I want to thank you and your great crew for all of the hard work that you did that created our wonderful patio. Everyone was professional and courteous. We had neighbors compliment your clean-up process in front of the house, too. The patio's a showpiece! When we get some landscaping in, we'll give you a call and, as you suggested, you can take some photos. We truly appreciate how accommodating you were to our requests. Thanks again!

Warmest regards,
Bill and Jessica